Efficacy
Efficacy was established in trials that did not utilize a titration period
See more
PERCENT REDUCTION OVER PLACEBO IN PARTIAL-ONSET SEIZURE FREQUENCY ADJUSTED TO 28 DAYS DURING THE TREATMENT PERIOD1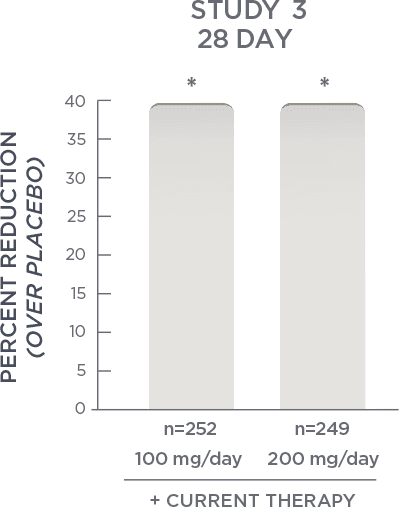 Statistically significant based on testing procedure with alpha = 0.05.
Effectiveness was established in 3 fixed-dose, randomized, double-blind, placebo-controlled, multicenter studies, which included 1550 patients
Enrolled patients had partial-onset seizures that were not adequately controlled by 1 to 2 concomitant antiepileptic drugs (AEDs)
BRIVIACT® was studied in a challenging patient population


IMPORTANT SAFETY INFORMATION
Psychiatric Adverse Reactions: BRIVIACT causes psychiatric adverse reactions, including non-psychotic and psychotic symptoms. These events were reported in approximately 13% of patients taking at least 50 mg per day of BRIVIACT compared to 8% of patients taking placebo. A total of 1.7% of adult patients taking BRIVIACT discontinued treatment due to psychiatric reactions compared to 1.3% of patients taking placebo. Advise patients to report these symptoms immediately to a healthcare provider.
Efficacy was observed among patients taking BRIVIACT® who had previously discontinued levetiracetam
See more
PERCENT REDUCTION OVER PLACEBO IN PARTIAL-ONSET SEIZURE FREQUENCY ADJUSTED TO 28 DAYS DURING THE TREATMENT PERIOD3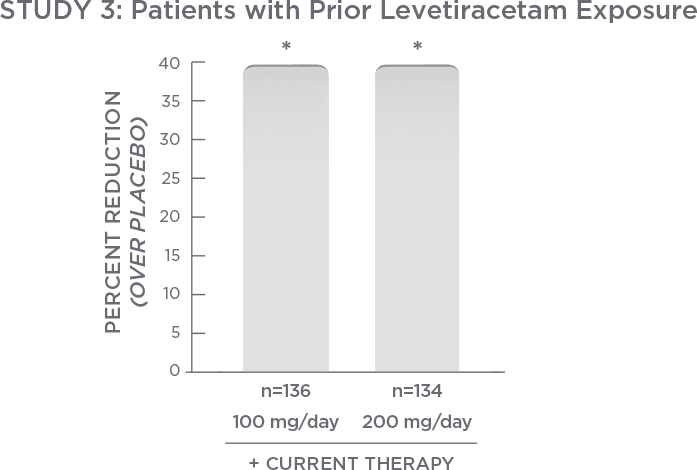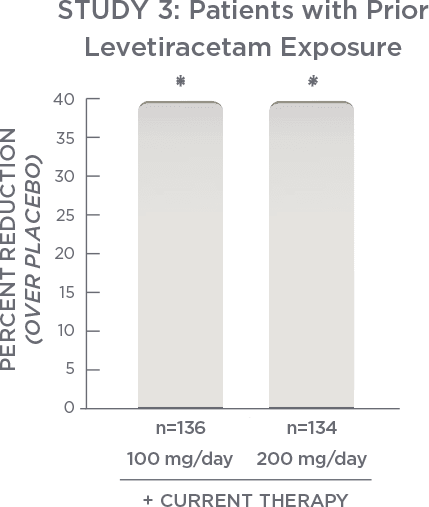 Statistically significant based on testing procedure with alpha = 0.05.
Patients had to discontinue levetiracetam use more than 90 days prior to screening.
In Study 3, approximately 54% of patients had prior exposure to levetiracetam and were evaluated in a pre-specified analysis†1,3

Of prior levetiracetam patients, approximately 68% had failed levetiracetam due to efficacy, 14% had discontinued for an adverse drug reaction, and 20% had discontinued for other reasons3

Patients taking concomitant levetiracetam were excluded from the study1
Patients with prior levetiracetam exposure presented with more severe baseline characteristics


IMPORTANT SAFETY INFORMATION
Hypersensitivity: BRIVIACT can cause hypersensitivity reactions. Bronchospasm and angioedema have been reported. Discontinue BRIVIACT if a patient develops a hypersensitivity reaction after treatment. BRIVIACT is contraindicated in patients with a prior hypersensitivity reaction to brivaracetam or any of the inactive ingredients.
Withdrawal of Antiepileptic Drugs: As with all antiepileptic drugs, BRIVIACT should generally be withdrawn gradually because of the risk of increased seizure frequency and status epilepticus.