Dosing
BRIVIACT® offers a therapeutic dose on
DAY ONE
The recommended starting dose for monotherapy and adjunctive therapy is 50 mg twice daily (100 mg/day) and is initiated without titration1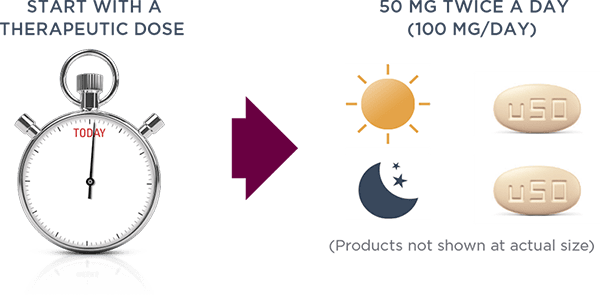 Gradual dose escalation is not required with BRIVIACT
Based on individual patient response, the dose may be adjusted between 25 mg twice daily (50 mg/day) and 100 mg twice daily (200 mg/day)
Avoid abrupt withdrawal from BRIVIACT in order to minimize the risk of increased seizure frequency and status epilepticus
Dosing in specific populations
For all stages of hepatic impairment, the recommended starting dosage is 25 mg twice daily (50 mg/day) and the recommended maximum dosage is 75 mg twice daily (150 mg/day)
Dose adjustments are not required for patients with impaired renal function; there are no data in patients with end-stage renal disease undergoing dialysis, and use of BRIVIACT is not recommended in this patient population
BRIVIACT® is available in multiple formulations, allowing for dosing flexibility
Considerations for tablets and oral solution1
BRIVIACT can be given with or without food
Tablets should be swallowed whole with liquid; they should not be chewed or crushed; tablets are not scored
Considerations for intravenous (IV) use*1
BRIVIACT injection may be used when oral administration is temporarily not feasible.
Preparation
BRIVIACT injection can be administered intravenously without further dilution or may be mixed with diluents listed below:

0.9% sodium chloride injection, USP
Lactated Ringer's injection
5% dextrose injection, USP
Administration
BRIVIACT injection should be administered intravenously over 2 to 15 minutes
Adverse reactions with BRIVIACT injection are generally similar to those observed with BRIVIACT tablets and also include dysgeusia, euphoric mood, feeling drunk, and infusion site pain.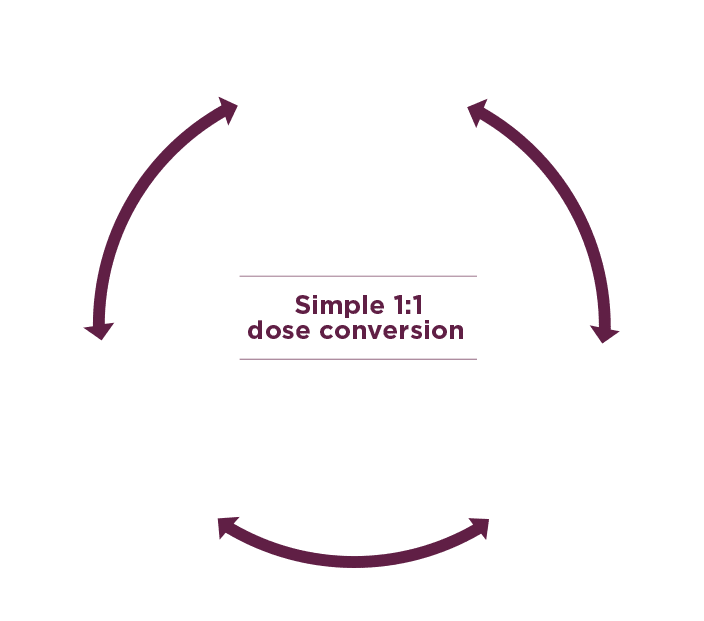 †10-mg tablets are available for down titration.
---
Blood levels1
No blood-level monitoring required
Pharmacokinetic profile1
Approximately 100% oral bioavailability
Linear pharmacokinetics
The half-life (t1/2) is approximately 9 hours, steady-state reached after 2 days
BRIVIACT is weakly bound (≤20%) to plasma proteins
No pharmacologically active metabolites
*

Clinical study experience limited to 4 consecutive days of treatment.