GET SAVINGS AND SUPPORT FOR
YOUR PATIENTS ON BRIVIACT
UCBCares

Help give patients a single point of contact throughout
their treatment journey with UCBCares.
Enroll your patients

To learn more about our product support services, contact UCBCares

Call
833-948-2394
Monday–Friday
9 AM to 6 PM ET
ACCESS
Help your patients get the medication they need.
UCB is committed to making BRIVIACT accessible for the majority of eligible patients across the US
patients could have access to BRIVIACT first1
This means they should not have to try and fail other antiseizure medications, including generics, for their insurance to cover BRIVIACT.§
commercial patients have formulary access to BRIVIACT2
§Formularies can change and many health plans offer more than 1 formulary. Please check directly with the health plan to confirm coverage for individual patients.
SAVINGS
UCB may help eligible patients find ways to save on their prescription.
Savings are available for eligible BRIVIACT patients
BRIVIACT Patient Savings Program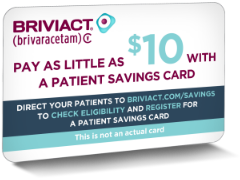 Eligible patients pay as little as $10 per
30-day supply of BRIVIACT
Check patient eligibility

ASSISTANCE
Help eligible patients start on BRIVIACT.
Help eligible patients get started with a free 2-week trial of BRIVIACT
New patients may be eligible for a FREE Trial Voucher with a 14-day prescription.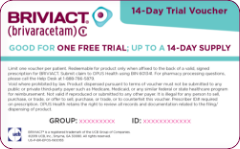 Contact your representative to receive
a patient voucher for a 14-day supply
of BRIVIACT.
BRIVIACT Patient Assistance Program may be able to help if your patients do not have health insurance or otherwise cannot afford BRIVIACT.
To learn more about the BRIVIACT Patient Assistance Program and check eligibility:

Call
833-948-2394

Enroll online
Start enrollment form
*Savings card is not valid for use by patients who are covered by any federally funded or state-funded healthcare program (including, but not limited to, Medicare [Part D and Medigap] and those who are Medicare-eligible and enrolled in an employer-sponsored health plan for retirees, Medicaid, any state pharmaceutical assistance program, TRICARE, VA, or DoD), or for cash-paying patients. A valid BRIVIACT prescription consistent with the approved FDA labeling is required. Other Eligibility Criteria and Terms apply. Full Eligibility Criteria and Terms are available at www.BRIVIACT.com or upon request by calling UCBCares at 833-948-2394.
†Bridge product is available for BRIVIACT® (brivaracetam) CV. Eligible patients must be at least one month of age or older, have commercial insurance, have a valid prescription consistent with the FDA-approved product labeling for BRIVIACT® (brivaracetam) CV, and have experienced a delay in, or have been denied coverage for BRIVIACT by their commercial insurance plan. Eligible patients may receive treatment at no cost for up to fifteen (15) days, with a one-time fifteen (15)-day renewal for a total of thirty (30) days maximum, if a prior authorization request has been denied, or coverage remains unavailable for the patient. Program is not available (1) to patients whose prescriptions are reimbursed, in whole or in part, under Medicare (including Medicare Part D), Medicaid, or any other federal- or state-funded health care programs (including any state prescription drug assistance programs and the Government Health Insurance Plan available in Puerto Rico), (2) where a patient's insurance covers the drug, (3) to uninsured or cash-paying patients, or (4) where otherwise prohibited by law. Product shall be dispensed pursuant to program rules and federal and state laws. Patients may be asked to re-verify insurance coverage status during participation in the program. No purchase necessary. Patients have no obligation to continue using BRIVIACT®. Program is not health insurance, nor is participation a guarantee of insurance coverage. Limitations may apply. This program cannot be combined with any other savings, free trial, or similar offer for the specified prescription. The patient, or healthcare provider on the patient's behalf, must not submit any claim for reimbursement for free product provided under this program to any third-party payer. UCB reserves the right to end or amend this program without notice.
‡Federal regulations currently do not permit the transfer of unfilled electronic prescriptions for schedule II-V controlled substances.
UCBCares is provided by UCB and is intended to support the appropriate use of UCB products. The UCBCares program may be amended or canceled at any time without notice. Eligibility terms and restrictions apply.