Co-pay/Savings
Affordability and accessibility matter
UCB is committed to making BRIVIACT accessible for the majority of eligible patients across the US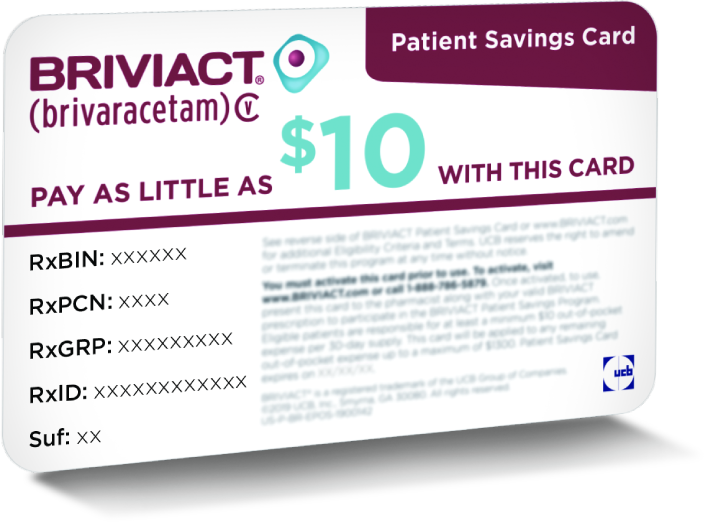 9

out of

10

commercial patients have formulary access to BRIVIACT® (brivaracetam) CV and most have unrestricted access.3
Savings
BRIVIACT® Patient Savings Program
Eligible patients* pay as little as $10 per 30-day supply of BRIVIACT with the BRIVIACT Patient Savings Program
Ask your sales representative for details about the program.
*

Patients are responsible for a minimum of $10

out-of-pocket

expense per

30-day

supply. This card will then be applied toward any remaining

out-of-pocket

expense up to a maximum of $100. Most patients who have commercial prescription insurance are eligible. If you have any questions regarding your eligibility or benefits or if you wish to discontinue your participation, call the BRIVIACT Savings Program at 1-888-786-5879 (8:30 AM – 5:30 PM EST,

Monday-Friday

and

8:30 AM – 2:30 PM EST,

Saturday). This savings card is not valid for use by patients who are covered by any federal or state funded healthcare program (including, but not limited to, Medicare [Part D and Medigap], Medicaid, any state pharmaceutical assistance program TRICARE, VA, or DoD). Offer good only in the U.S., including Puerto Rico. This card is good for use only with a valid BRIVIACT prescription at the time the prescription is filled by the pharmacist and dispensed to the patient. The maximum annual benefit amount is $1300 per calendar year. Void where prohibited by law, taxed, or restricted. This offer cannot be combined with any other promotional offer. UCB, Inc. reserves the right to rescind, revoke, or amend this offer without notice at any time. No cash value. Not eligible for sale, purchase, trade, or counterfeit.
Assistance
When a prior authorization is required, PARx Solutions® and CoverMyMeds® can provide assistance
PARx Solutions and CoverMyMeds offer prior authorization (PA) assistance through an electronic-based system that standardizes the medical necessity request process for most insurance providers, and for patients with commercial, Medicare Part D, and Medicaid coverage*
When a prior authorization is needed, PARx Solutions and CoverMyMeds can provide assistance.

PARx Support Solutions for Prescribers (PASS)
PARx Solutions helps prescribers easily navigate the PA process by providing digital PAs via secure

web-based

and

pharmacy-driven

support
Get started in 4 simple steps:
Physician completes and submits universal insurance PA request form.
PARx completes proper PA health plan form.
PARx submits form to proper health plan.
PARx works with office if additional information is needed and follows up on outcome of submission.
For more information, visit www.parxsolutions.com.

Pharmacy-initiated PA requests
If a prescription is submitted to a participating pharmacy and requires a PA, CoverMyMeds facilitates the approval process by delivering a PA to your office for completion, signature, and submission to the health plan
More than 90%14 of retail pharmacies participate in CoverMyMeds
Physician-initiated PAs
CoverMyMeds also offers a web-based portal that can help your office by automating the PA process, saving prescribers and staff time and ensuring patients receive their medication faster
Get started online at www.covermymeds.com, by email at help@covermymeds.com, or by phone at 1-866-452-5017.
*

Currently,

Medi-Cal

, Washington State Medicaid, and Wisconsin State Medicaid require the pharmacy to submit prior authorization forms and may not be applicable to this program. This list is subject to change based on plan requirements.
†

Year-to-date

average does not indicate or guarantee an individual's approval for BRIVIACT.
Financial assistance may be available for BRIVIACT® patients
The BRIVIACT Patient Assistance Program may be able to help if your patients do not have health insurance or if they are a Medicare Part D recipient and cannot afford BRIVIACT. Eligible patients are provided a free 6-month supply of medicine and can reapply every six months for continuing support.
To learn more about the BRIVIACT Patient Assistance Program or to find out if your patient might be eligible for assistance, please contact UCBCares at 1-844-599-CARE (2273) or UCBCares@ucb.com, or click below to get started.
Program instructions and application form
Receive a FREE
2-week

trial of BRIVIACT®

Contact your representative to receive a patient voucher for a 14-day supply of BRIVIACT.

Or call UCBCares at 1-844-599-CARE (2273) or email UCBCares@ucb.com.