BRIVIACT INJECTION
FOR PARTIAL-ONSET SEIZURE
PATIENTS IN THE HOSPITAL
Because in neurocritical care, there is limited time for complicated administration
BRIVIACT® (brivaracetam) CV is indicated for the treatment of partial-onset seizures in patients 1 month of age and older.1
With an undiluted bolus injection, BRIVIACT offers rapid administration1
Can be administered intravenously over 2 to 15 minutes1

Median Tmax following a 2-minute bolus (administered undiluted) is <5 minutes2

Can be administered with or without dilution

1

May be used with common diluents: sodium chloride (0.9%) injection, USP; lactated Ringer's injection; dextrose 5% injection, USP
No loading dose or titration required1

No refrigeration required

1

Can be stored in PyxisTM or Omnicell systems

No blood level, respiratory, or cardiac monitoring required
BRIVIACT is a molecular entity in the racetam class that targets SV2A1 
The precise mechanism by which BRIVIACT exerts its anticonvulsant activity is unknown1
BRIVIACT is the result of a large rational discovery effort in which UCB screened ~12,000 compounds in an effort to find another synaptic vesicle protein (SV2A) ligand as a new addition to the racetam class3
BRIVIACT displays a high and selective affinity for SV2A in the brain, which may contribute to the anticonvulsant effect1 
 
SV2A BINDING IS PROPOSED TO BE THE PRIMARY MECHANISM OF ACTION (MOA) FOR BRIVIACT4,6,7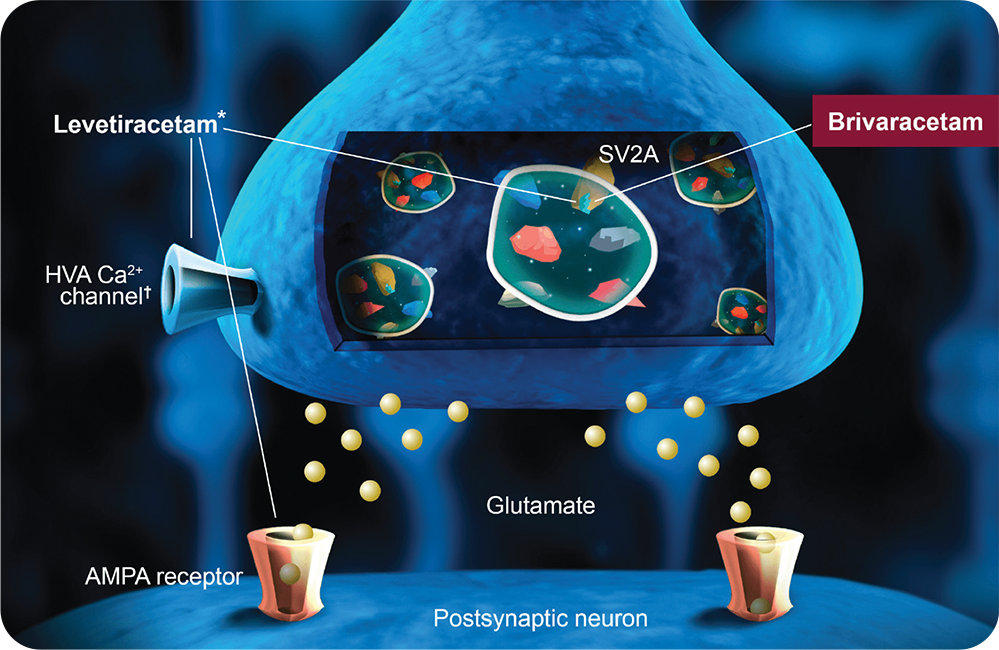 *The precise mechanism by which levetiracetam exerts its anticonvulsant activity is unknown. Not all proposed mechanisms of levetiracetam are depicted.
†High-voltage-activated calcium channel.
Depiction of proposed MOA based on in vitro studies 
BRIVIACT displays 15-30x higher affinity for SV2A than levetiracetam4

Implications for efficacy and safety are not known
Levetiracetam is a product manufactured by UCB.
BRIVIACT exhibits a linear and time-independent pharmacokinetic profile1
BRIVIACT allows administration flexibility with multiple formulations and a 1:1 dose conversion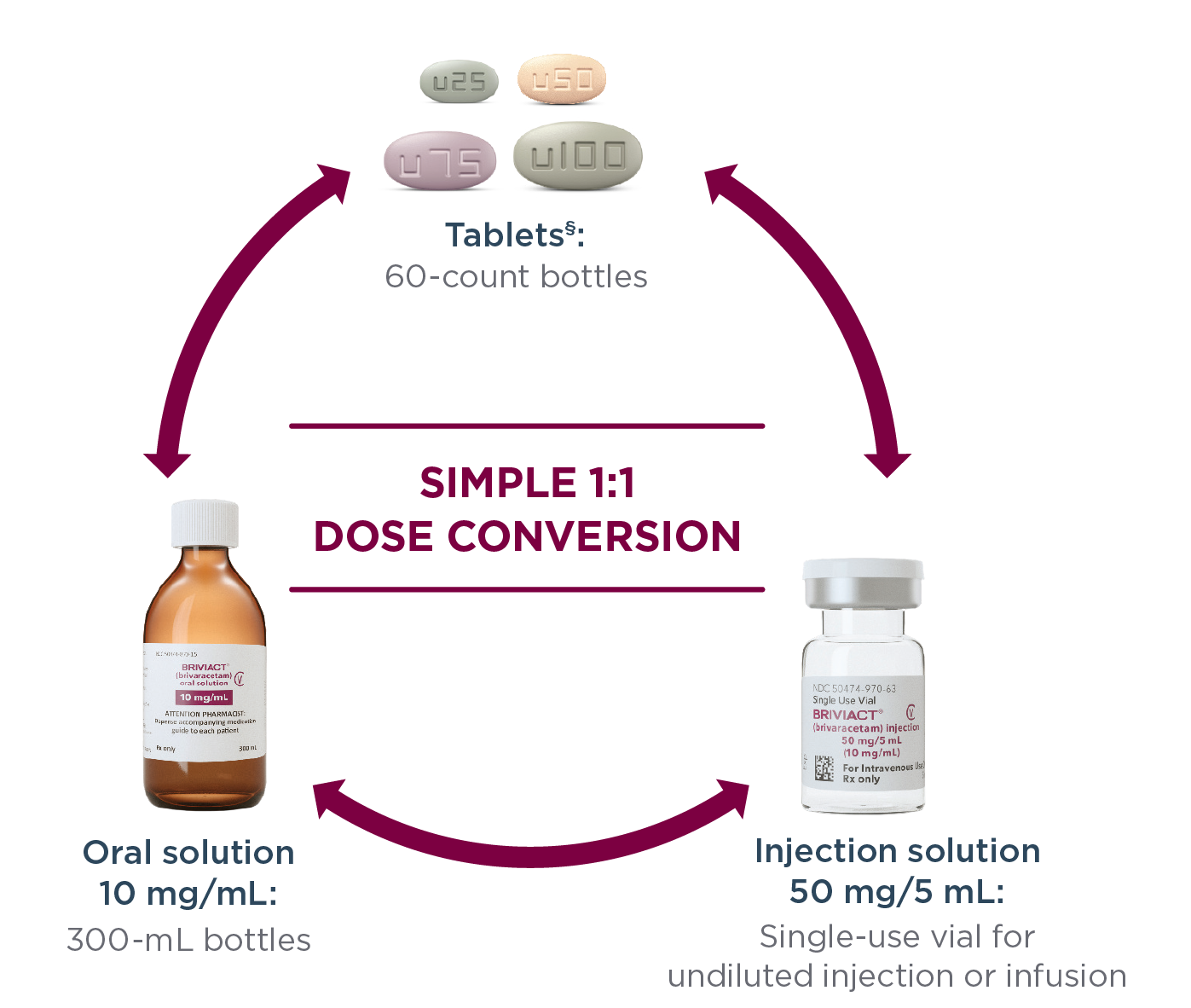 The recommended starting dose for monotherapy and adjunctive therapy in adult patients (16 years and older) is 50 mg twice daily (100 mg/day) and is initiated without titration1
The maximum maintenance dose in adults is 100 mg twice daily (200 mg/day)1
When initiating treatment, gradual dose escalation is not required. Dosage should be adjusted based on clinical response and tolerability1
§10-mg tablets are available for down titration. Products not shown at actual size.
BRIVIACT injection may be used when oral administration is temporarily not feasible. BRIVIACT injection should be administered intravenously to patients at the same dosage and same frequency as BRIVIACT tablets and oral solution. The clinical study experience with BRIVIACT injection is limited to up to 4 consecutive days of treatment.1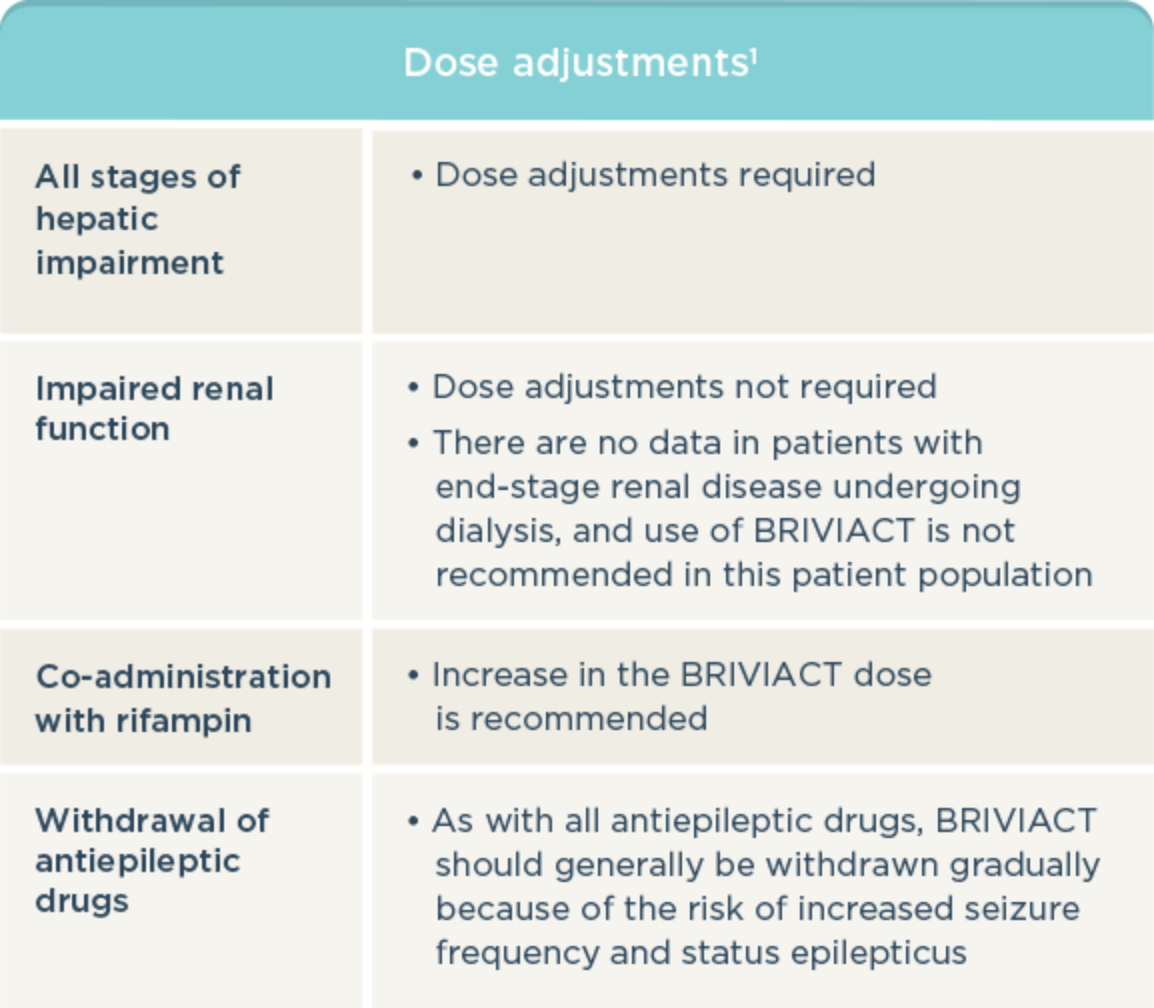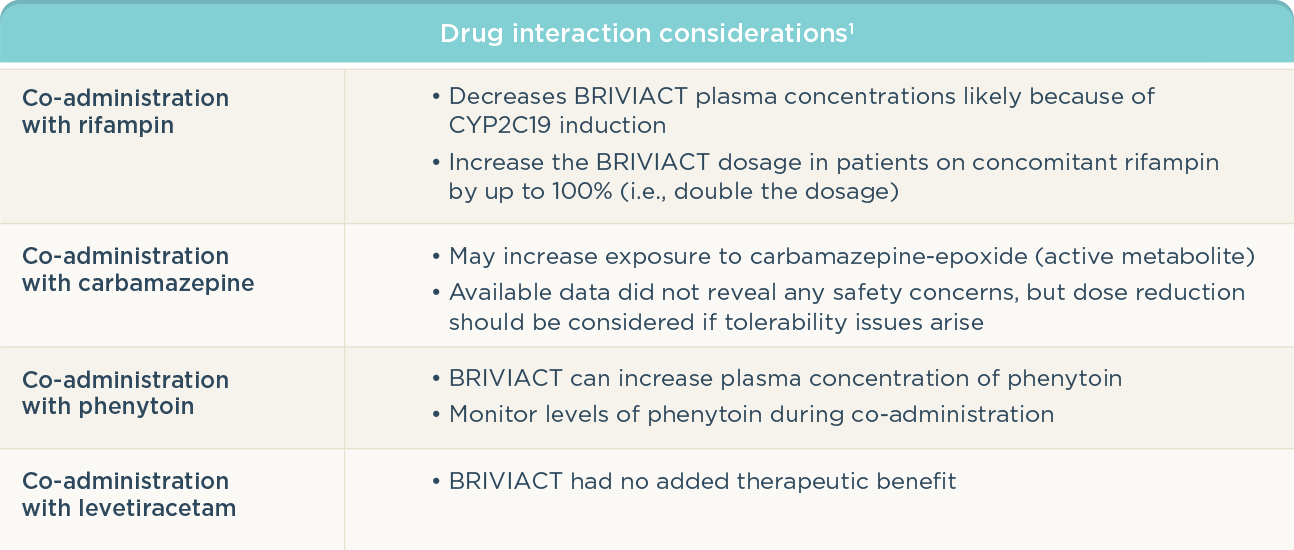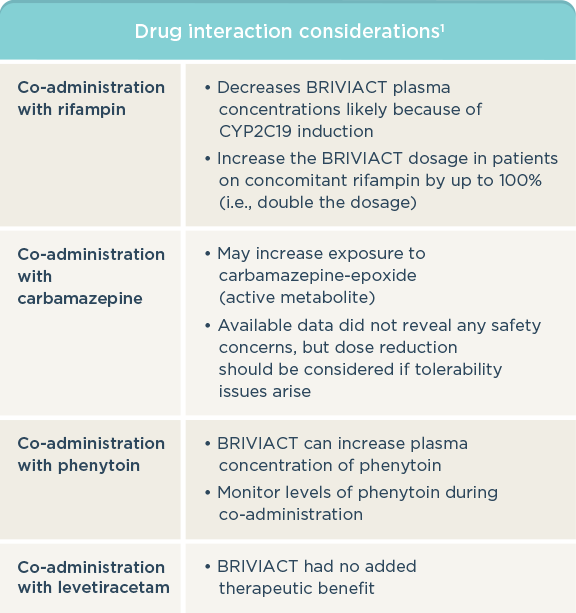 Co-administration with carbamazepine and phenytoin does not require changes in the dose of BRIVIACT, but interactions may be clinically important.
Adult efficacy was established in pivotal trials using BRIVIACT tablets
PIVOTAL TRIAL PROGRAM DESIGN AND RESULTS1
Trial design
Effectiveness was established in 3 fixed-dose, randomized, double-blind, placebo-controlled, multicenter studies, which included 1550 adult patients1
Enrolled adult patients had partial-onset seizures that were not adequately controlled by 1 to 2 concomitant antiepileptic drugs (AEDs)1
Adult patients taking concomitant levetiracetam were excluded from Study 31
Trial results
25.2% and 25.7% reduction over placebo with BRIVIACT 100 mg/day (n=252) and 200 mg/day (n=249) respectively in partial-onset seizure frequency adjusted to 28 days during the treatment period in Study 3, when added to current therapy1
≥50% response achieved by 30.0%, 38.1%, and 37.8% of patients with BRIVIACT 50 mg/day, 100 mg/day, and 200 mg/day vs. 20.2% with placebo in pooled results from all three studies8
BRIVIACT WAS EFFICACIOUS IN PATIENTS WHO HAD PRIOR LEVETIRACETAM EXPOSURE
In Study 3, approximately 54% of adult patients had prior exposure to levetiracetam and were evaluated in a pre-specified analysis. Adult patients taking concomitant levetiracetam were excluded from the study.1
18.2% and 21.3% reduction over placebo with BRIVIACT 100 mg/day and 200 mg/day, respectively, in partial-onset seizure frequency adjusted to 28 days during the treatment period in Study 3 in patients with prior levetiracetam exposure8 
Reasons for discontinuing levetiracetam prior to inclusion in Study 38:

BRIVIACT studies showed no additional benefit when co-administered with levetiracetam1
BRIVIACT safety profile was established in phase III pivotal trials using BRIVIACT tablets
In adult adjunctive placebo-controlled trials, the most common adverse reactions (≥5% for BRIVIACT and ≥2% more frequently than placebo) were somnolence and sedation, dizziness, fatigue, and nausea and vomiting1
There was no apparent dose-dependent increase in adverse reactions with the exception of somnolence and sedation1 
Most adverse events in trials were reported to be mild to moderate8
ADULT ADVERSE REACTIONS THAT OCCURRED AT LEAST 2% MORE FREQUENTLY FOR BRIVIACT THAN PLACEBO1¶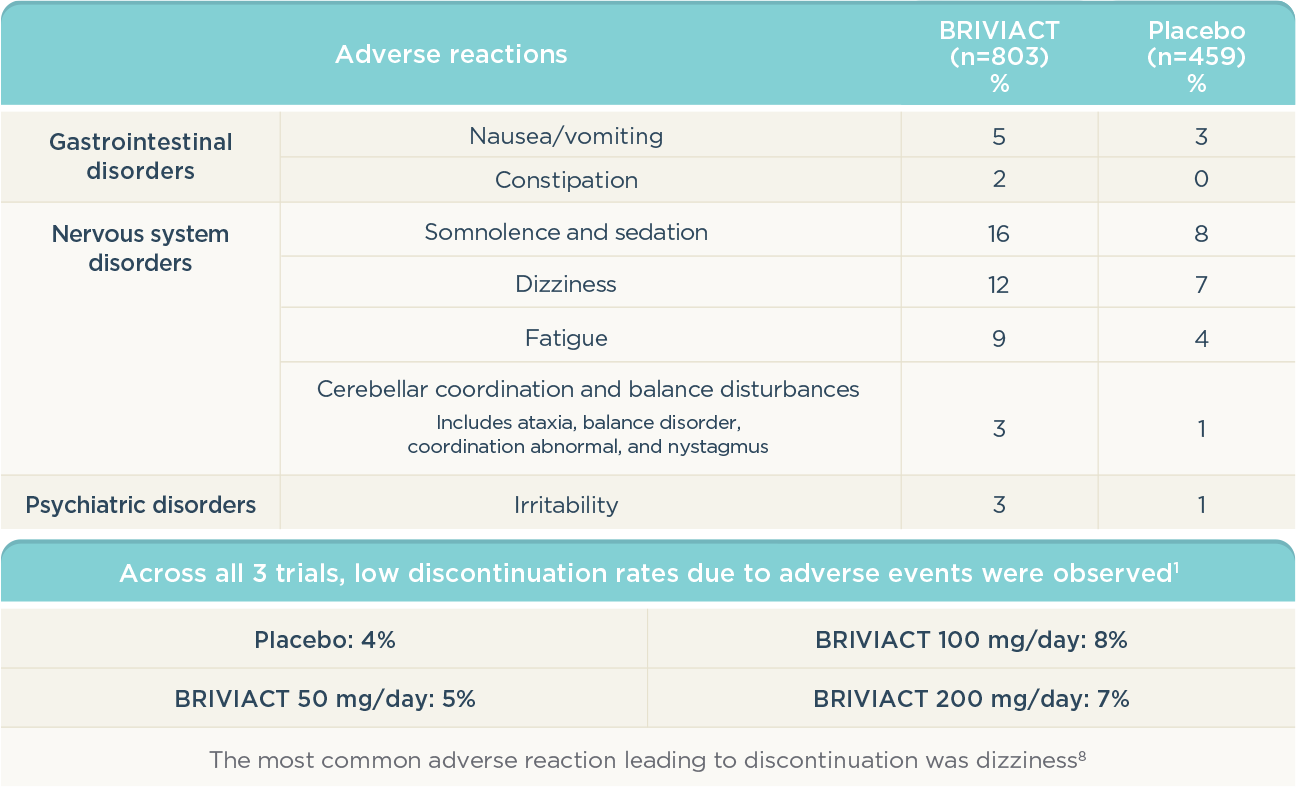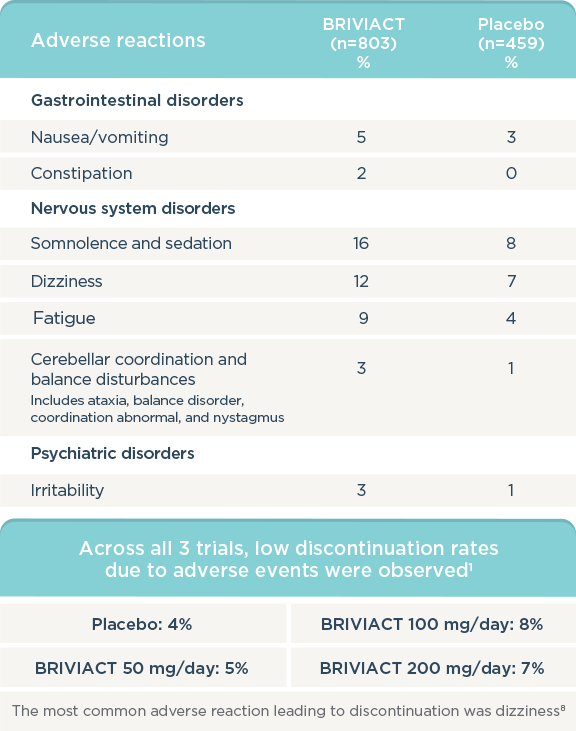 ¶For BRIVIACT doses of ≥50 mg/day in pooled placebo-controlled adjunctive therapy studies.
BRIVIACT injection safety
CONSISTENT SAFETY PROFILE ACROSS FORMULATIONS
IV safety trial design7 
Safety and tolerability were established in a phase III, multicenter, randomized, four-arm, parallel-group study of adults with uncontrolled seizures 
Enrolled epilepsy patients (n=105) received BRIVIACT injection administered as a 2-minute bolus or a 15-minute infusion twice daily 
Following a 7-day run-in period, patients were evaluated for 4.5 days 
Patients were randomized 1:1:1:1 to placebo/BRIVIACT bolus; placebo/BRIVIACT infusion; BRIVIACT/BRIVIACT bolus; BRIVIACT/BRIVIACT infusion
 
IV safety trial results5
BRIVIACT injection was generally well-tolerated. Tolerability was similar when given as a bolus or infusion, and as de novo administration or conversion 
Somnolence, dizziness, headache, and fatigue were the most frequently reported adverse events (>5%) 
Incidence of injection-related treatment-emergent adverse events was low and the most frequently reported were injection site erythema (5%) and infusion/injection site pain (4%) 
<2% of patients discontinued due to an adverse event
IMPORTANT SAFETY INFORMATION

ADVERSE REACTIONS
In adult adjunctive therapy placebo-controlled clinical trials, the most common adverse reactions (at least 5% for BRIVIACT and at least 2% more frequently than placebo) were somnolence and sedation, dizziness, fatigue, and nausea and vomiting symptoms. Adverse reactions reported in clinical studies of pediatric patients were generally similar to those in adult patients. Adverse reactions with BRIVIACT injection in adult and pediatric patients were generally similar to those observed with BRIVIACT tablets. Other adverse events that occurred in adult patients who received BRIVIACT injection included dysgeusia, euphoric mood, feeling drunk, and infusion site pain.
Support BRIVIACT Patients With A Smooth Transition
From Hospital To Home
1:1 DOSE CONVERSION BETWEEN IV AND ORAL FORMULATIONS1
The BRIVIACT Discharge Kit contains:
A trial voucher for eligible patients for 30 days of free medication when they leave the hospital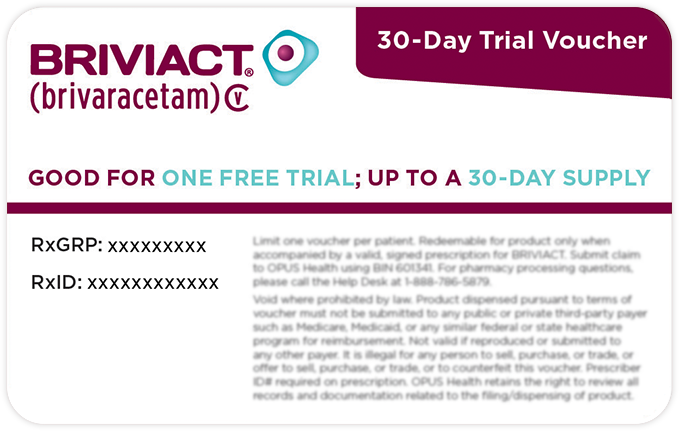 A savings card to help minimize out-of-pocket costs for eligible patients who may pay as little as $10 for a 30-day supply of BRIVIACT#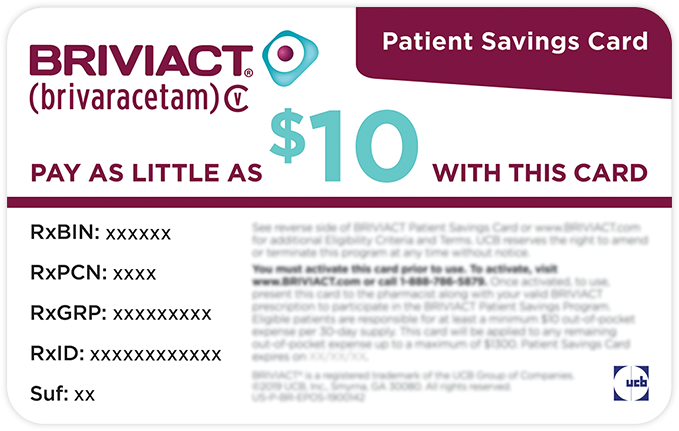 Visit UCBDischargeSupport.com To Learn More And Download UCB's Patient Education,
Patient Savings Cards, And Free Product Trial Vouchers.
#ELIGIBILITY CRITERIA AND TERMS
Savings card is not valid for use by patients who are covered by any federally funded or state-funded healthcare program (including, but not limited to, Medicare [Part D and Medigap] and those who are Medicare-eligible and enrolled in an employer-sponsored health plan for retirees, Medicaid, any state pharmaceutical assistance program, TRICARE, VA, or DoD), or for cash-paying patients. A valid BRIVIACT prescription consistent with the approved FDA labeling is required. Other Eligibility Criteria and Terms apply. Full Eligibility Criteria and Terms are available here or upon request by calling ucbCARES® at 1-844-599-CARE (2273).