A CONFIDENT START FOR THEIR
LONG-TERM JOURNEY
BRIVIACT® (brivaracetam) CV is indicated for the treatment of partial-onset seizures in patients 1 month of age and older.1
Five-year view of BRIVIACT long-term retention rates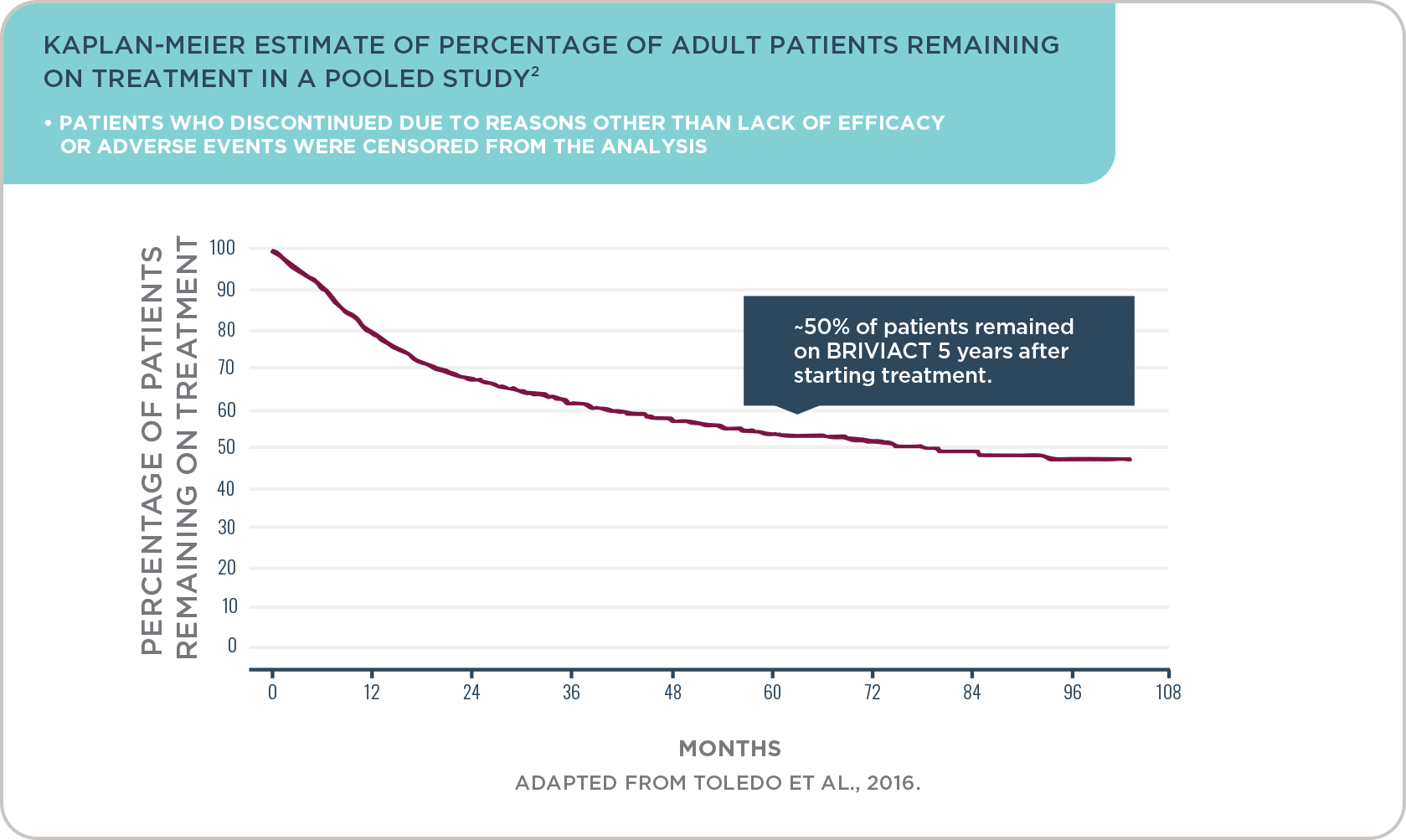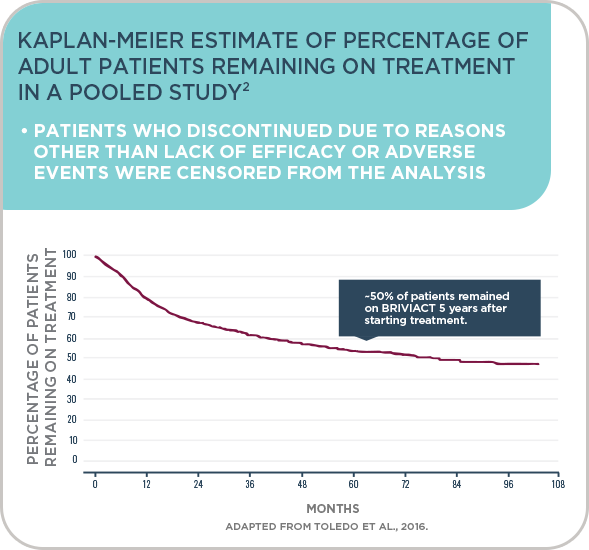 Conclusions of long-term efficacy or safety should not be drawn from this data.
Study designs and results2
The modified safety population was comprised of adult patients with epilepsy who took part in the Phase 2b and Phase 3 trials, were uncontrolled by 1-3 AEDs, and who continued into the open-label, long-term follow-up trial (N=2,051; mean age: 37.2 years). The recommended initial dose was 50 mg/day and a flexible dosing regimen (≤200 mg/day) was permitted
Limited exposure was seen at the later time points, with 41 patients (1.7%) continuing treatment for ≥8 years, and 3 patients (0.1%) continuing for ≥8.5 years
Over the course of 5 years, the most common TEAEs were headache (20.9%), dizziness (17.5%), and somnolence (15.2%)
AEDs=antiepileptic drugs.
TEAEs=treatment-emergent adverse events.
BRIVIACT offers a confident start from Day 1 with no titration period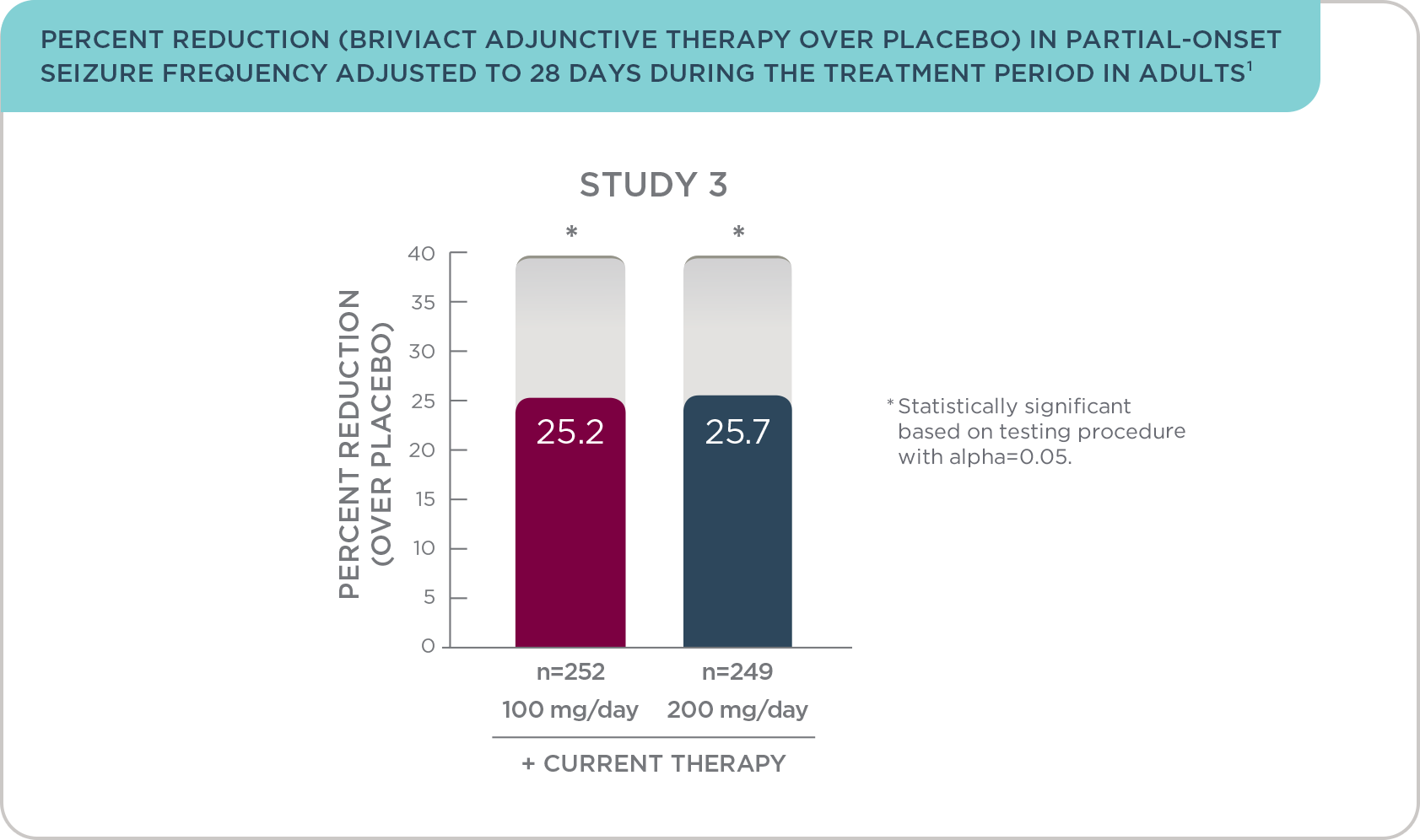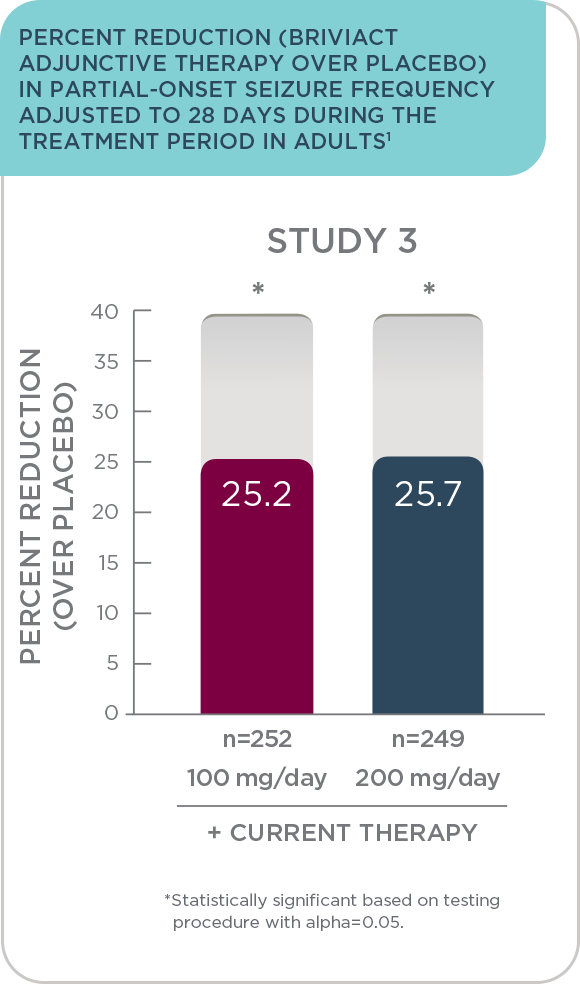 PIVOTAL TRIAL PROGRAM DESIGN1
Effectiveness was established over a

12-week

treatment period in three fixed-dose, randomized, double-blind, placebo-controlled, multicenter studies, which included 1550 adult patients
Enrolled adult patients had partial-onset seizures that were not adequately controlled by 1 to 2 concomitant AEDs
Adult patients taking concomitant levetiracetam were excluded from Study 3
AEDs=antiepileptic drugs.
Efficacy and tolerability were further demonstrated across all doses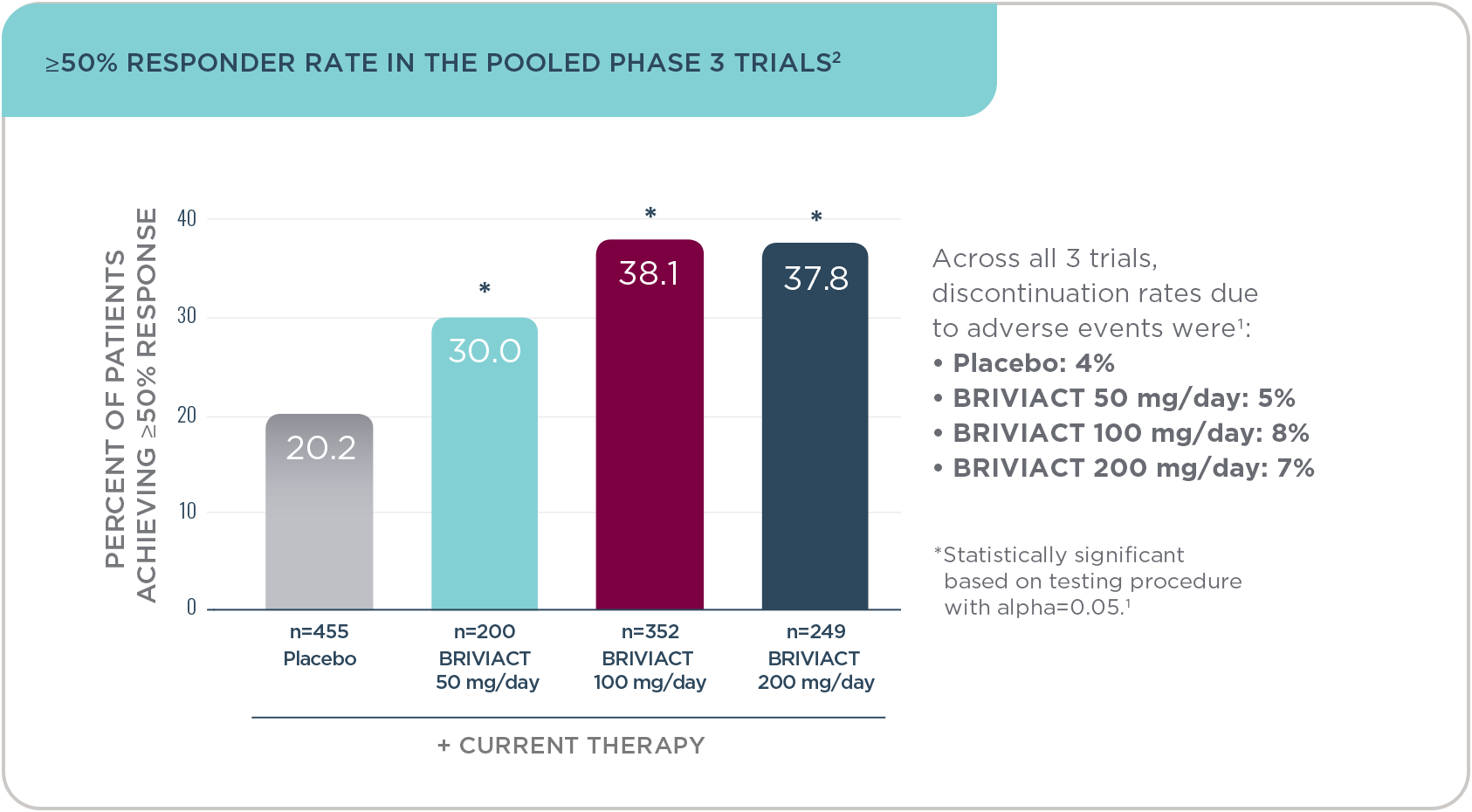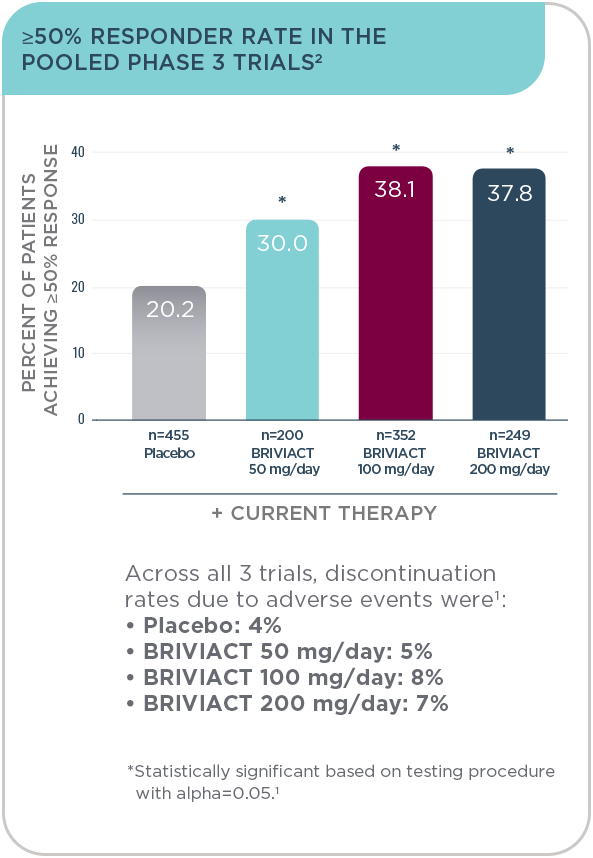 Pooled analysis of three pivotal trials3
≥50% responder rate based on percent reduction in focal seizure frequency from baseline to the end of treatment period (12 weeks) was a primary or secondary end point in all 3 trials4-6
In adult adjunctive therapy placebo-controlled clinical trials, the most common adverse reactions (at least 5% for BRIVIACT and at least 2% more frequently than placebo) were somnolence and sedation, dizziness, fatigue, and nausea and vomiting symptoms. Adverse reactions reported in clinical studies of pediatric patients were generally similar to those in adult patients. Adverse reactions with BRIVIACT injection in adult and pediatric patients were generally similar to those observed with BRIVIACT tablets. Other adverse events that occurred in adult patients who received BRIVIACT injection included dysgeusia, euphoric mood, feeling drunk, and infusion site pain1
Patients with ~3 SGTC seizures per 28 days at baseline achieved SGTC seizure freedom in the short- and long-term7
In a pooled post hoc analysis of patients treated with BRIVIACT,
up to 36% of patients achieved SGTC seizure freedom at 12 weeks7
Short-term, 12-week data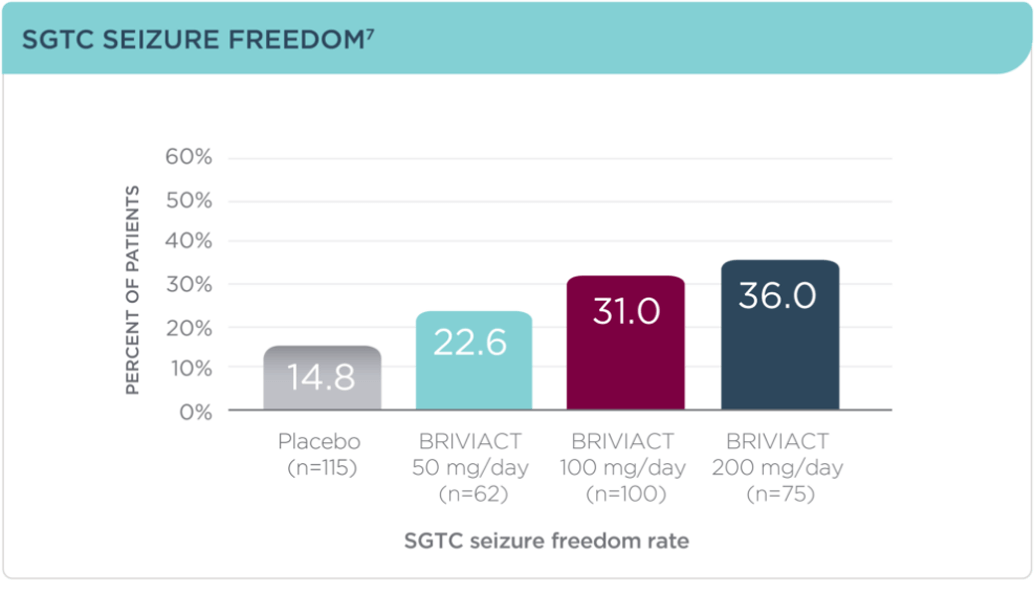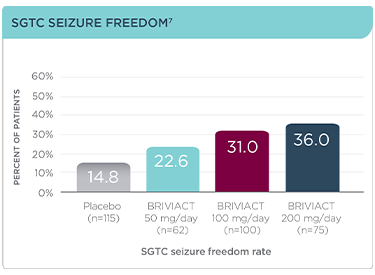 5 year: 35% of patients overall experienced ≥1 year of SGTC seizure freedom at any time during the long-term follow-up post hoc analysis8
Long-term, 5-year data from post hoc analysis
Long-term data demonstrated more patients achieved seizure freedom for a year or more when BRIVIACT was started earlier8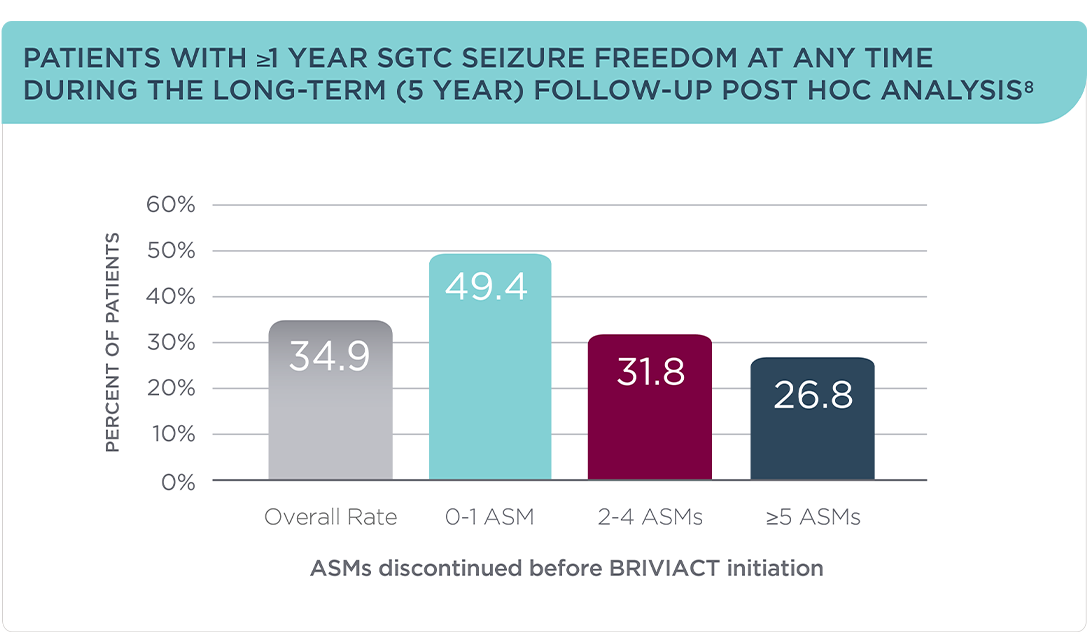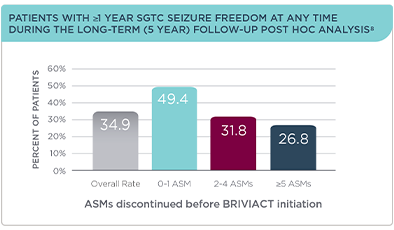 Trial design: 12 weeks
Post hoc analysis of patients with SGTCS among their baseline seizures from pooled data of 3 phase 3 pivotal trials7
Trial design: 5 years
Post hoc analysis conducted to evaluate the efficacy and tolerability of long-term BRV treatment in patients ≥16 years of age, who reported FBTCS during the 8-week baseline of three phase III pivotal trials and received adjunctive BRV in either the pivotal trials or the long-term follow-up8
Efficacy (concomitant levetiracetam excluded) and tolerability (concomitant levetiracetam included) were assessed from the first day of BRV in patients who initiated BRV at 50-200 mg/day8
BRV=brivaracetam; FBTCS=focal to bilateral tonic-clonic seizures; SGTCS=secondarily generalized tonic-clonic seizures.
BRIVIACT offers simple 1:1 dose conversion between formulations1




Dose adjustments are recommended for patients with all stages of hepatic impairment1
When BRIVIACT is co-administered with rifampin, an increase in the BRIVIACT dose is recommended1
BRIVIACT exhibits a linear and time-independent pharmacokinetic profile1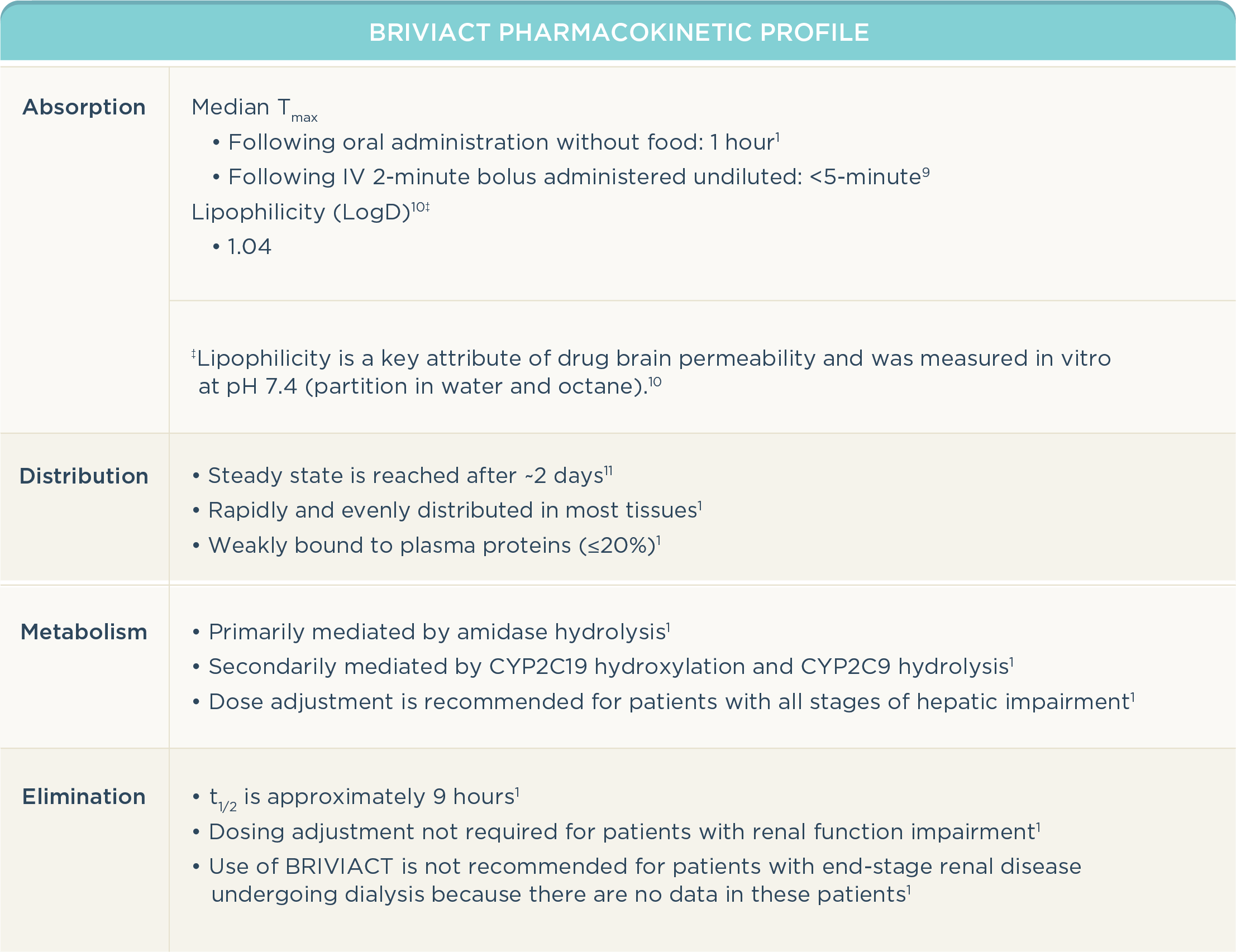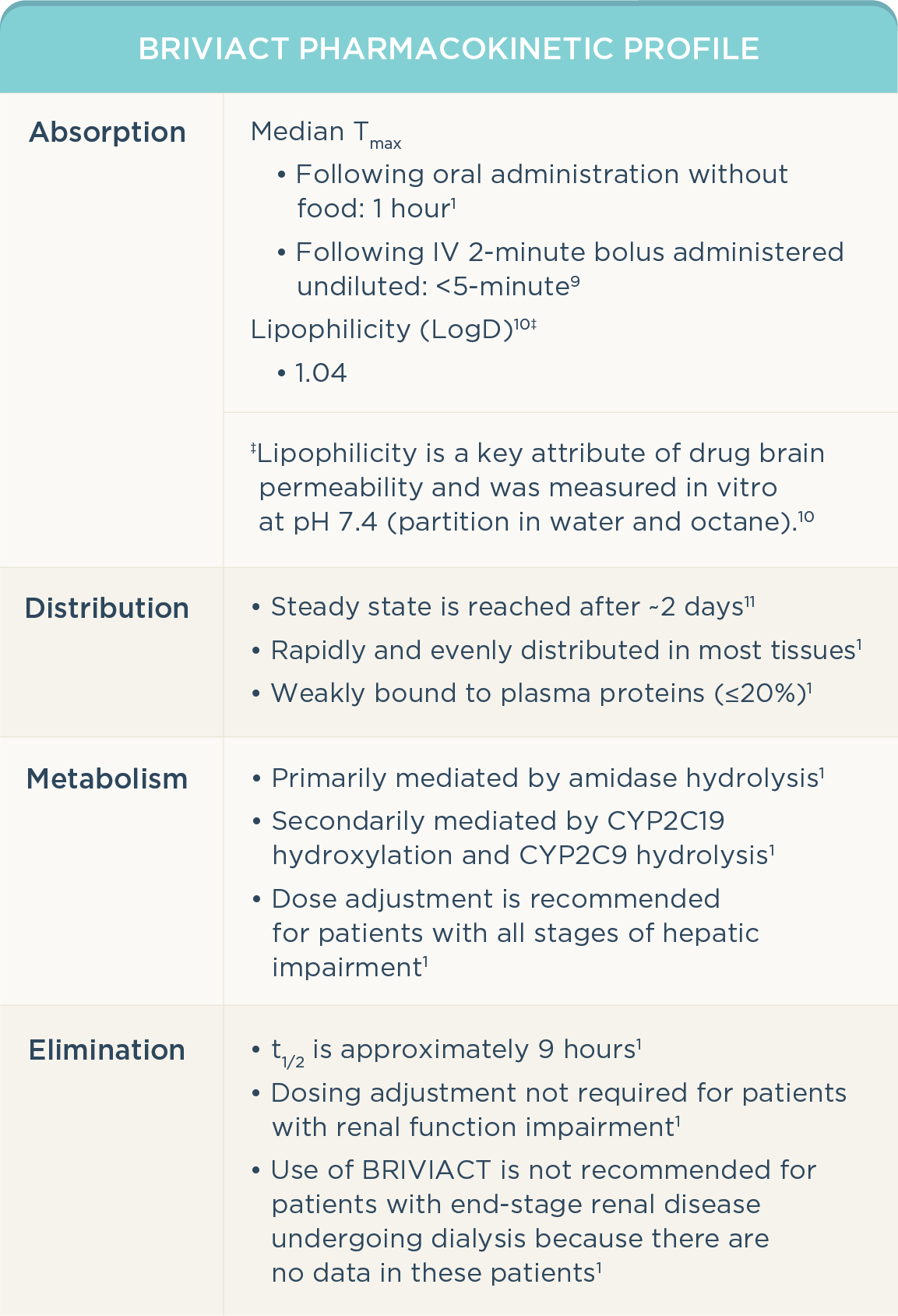 Affordability and accessibility matter
UCB is committed to making BRIVIACT accessible and affordable for the majority of eligible patients across the US§
A Patient Savings Card can help minimize
out-of-pocket costs for eligible patients who may pay
as little as $10 for a 30-day supply of BRIVIACT.§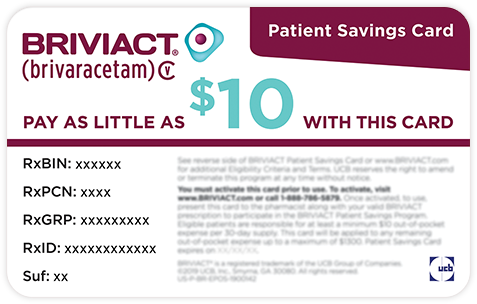 Direct your patients to BRIVIACT.com/savings to check eligibility and download a Patient Savings Card,
or request one from ucbCARES® at 1-844-599-2273.
§ELIGIBILITY CRITERIA AND TERMS
Savings card is not valid for use by patients who are covered by any federally funded or state-funded healthcare program (including, but not limited to, Medicare [Part D and Medigap] and those who are Medicare-eligible and enrolled in an employer-sponsored health plan for retirees, Medicaid, any state pharmaceutical assistance program, TRICARE, VA, or DoD), or for cash-paying patients. A valid BRIVIACT prescription consistent with the approved FDA labeling is required. Other Eligibility Criteria and Terms apply. Full Eligibility Criteria and Terms are available here or upon request by calling ucbCARES® at 1-844-599-CARE (2273).
Need assistance?
Contact ucbCARES® for additional information about UCB products, patient resources, and financial assistance.