About BRIVIACT
BRIVIACT® is a new molecular entity in the racetam class that targets SV2A
See more
IN A PRECLINICAL DISCOVERY PROGRAM, THE AFFINITY OF RACETAM ANALOGS FOR SYNAPTIC VESICLE PROTEIN 2A (SV2A) STRONGLY CORRELATED TO THEIR ANTICONVULSANT ACTIVITY IN AN ANIMAL MODEL4-6
The most promising compounds were profiled in a broad range of animal models of seizures and epilepsy4,5
Agents with an animal model profile similar to levetiracetam* were not pursued through Phase III clinical trials5
BRIVIACT displayed anticonvulsant activity in numerous animal models of seizures and epilepsy including classical screening models4,5
BRIVIACT displays a high and selective affinity for SV2A in the brain, which may contribute to the anticonvulsant effect1
The precise mechanism by which BRIVIACT exerts its anticonvulsant activity is unknown1
*Levetiracetam is a product manufactured by UCB.
SV2A binding is proposed to be the primary mechanism of action (MOA) for BRIVIACT® and levetiracetam*†5-11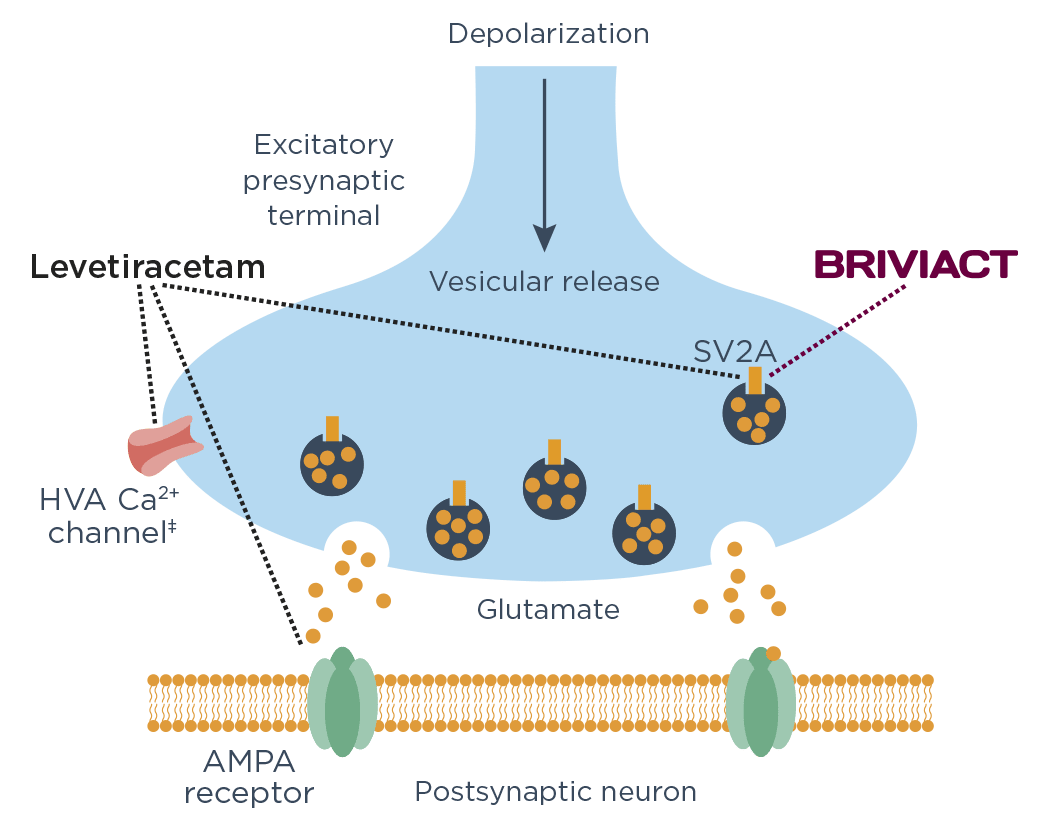 Based on in vitro studies:

BRIVIACT displays a 15- to 30-fold higher affinity for SV2A2
BRIVIACT does not display activity at HVA Ca2+ channels‡ or AMPA receptors5

Implications for clinical efficacy and tolerability are not known
*

The precise mechanism by which levetiracetam exerts its anticonvulsant activity is unknown.
†Not all proposed mechanisms of levetiracetam are depicted.
‡High-voltage-activated calcium channel.
IMPORTANT SAFETY INFORMATION
Suicidal Behavior and Ideation: Antiepileptic drugs, including BRIVIACT, increase the risk of suicidal behavior and ideation. Monitor patients taking BRIVIACT for the emergence or worsening of depression; unusual changes in mood or behavior; or suicidal thoughts, behavior, or self-harm. Advise patients, their caregivers, and/or families to be alert for these behavioral changes and report them immediately to a healthcare provider.
Neurological Adverse Reactions: BRIVIACT causes somnolence, fatigue, dizziness, and disturbance in coordination. Somnolence and fatigue-related adverse reactions were reported in 25% of patients taking at least 50 mg per day of BRIVIACT compared to 14% of patients taking placebo. Dizziness and disturbance in gait and coordination were reported in 16% of patients taking at least 50 mg per day of BRIVIACT compared to 10% of patients taking placebo. The risk is greatest early in treatment but can occur at any time. Monitor patients for these signs and symptoms and advise them not to drive or operate machinery until they have gained sufficient experience on BRIVIACT.